We came up with a list of our top 7 disappointing players in the NFL this season. Sure there were plenty this season who could have made this list, but a lot of hype surrounded these specific players going into the 2011 season.
Lee Evans
The Buffalo Bills traded Evans, a popular player in their clubhouse, to the Ravens for a mid-round pick.  While Flacco needs all the help he can get, he's been doing fine without Evans who had been nursing an ankle injury for 7 weeks. 7 weeks. Roethlisberger played 20 minutes after he had his ankle snapped in half last week.
In 5 games this season, Evans only has 3 catches for 53 yards. Mike Wallace has those numbers in the first minute of any game.
Josh Freeman
After ranking 6th in the NFL with a 95.9 passer rating in 2010, pundits were exuberantly calling Freeman the NEXT BIG THING.  Turns out he can throw—to the other team. Freeman's 16 interceptions this season is second in the NFL. He's also a confirmed GUNSLINGER. In fact, on Halloween, he needed five stitches in his right thumb after a gun mishap at a Tampa shooting range. (Didn't Plaxico get TWO YEARS in prison for a gun mishap as well?)  Anyway, looks like Freeman has reverted back to his rookie form, when he had a 59.8 passer rating and just plain sucked.
Albert Haynesworth
Haynesworth was traded to the New England Patriots from the Washington Redskins over the summer for a 2013 fifth-round draft pick. Fat Albert, who was a slacker for the Skins, pulled the same shit on the Patriots. Unhappy with his playing time, he dogged it for the most of the season and was cut by Bill Belicheck in October. For this, he was paid $1.5 million. And here, I honestly thought that Ochocinco would be the one who would get his ass kicked to the curb first.
Peyton Hillis
Another victim of the Madden curse. But we question why anyone would put a Browns' player on the cover of anything in the first place. Didn't this year's Madden football game have the lowest sales EVER?  Electronics Art couldn't have put anyone else on there? Sure, Hillis had a great season in 2010, but he proved, just like the Cleveland Browns themselves, that he's just irrelevant.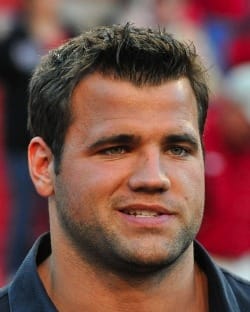 Chad Ochocinco
How do you play for high octane offense and just plain suck? It's amazing that Belicheck hasn't tossed his ass out the door yet. The receiver formerly known as Johnson has 12 catches this season. He's done very little for the Patriots, much like he did for the Bengals the last couple seasons. He missed a couple of games due to a hamstring injury—my question is how did he hurt it, from tweeting too much?
Sam Bradford
No team in the NFL has scored fewer points this season than the St. Louis Rams. Yes, not even the Colts. Their highest scoring game this season occurred when A.J. Feeley was behind center.  Sure, Rams' fans would point to their pathetic offensive line, but Roethlisberger had had poor protection since he joined the league. All Big Ben has done is win championships and shatter Steelers' passing records. Not only has the reigning NFL Rookie of the Year failed to score, but he produced less than 2,000 yards passing so far. Not great numbers if he wants to be considered an elite QB.
DeSean Jackson
Like the rest of his Eagles' teammates, Jackson hasn't produced at all this season, and was benched in a game last week by Andy Reid after dropping two touchdown catches. Unhappy that he hasn't received a contract extension, Jackson pouted and failed to play to his potential.  Only 35 catches and 2 TDs so far. Isn't the best way to get a huge contract is to play as you deserve it?